Starting in January 2019, PUBG Europe League will be part of a global competitive system, in which top-performing teams from PEL will have a chance to qualify for an international event at the end of the season, where the best teams from each region will compete against one another to decide the season's champion. The League will consist of three phases in the 2019 season. The annual combined prize pool for the professional PUBG Europe League (PEL) and Contenders League will be €1,000,000.
Throughout the whole season, 16 teams of PUBG Europe League will play in a specially designed Battle Royale LAN-studio in one of the European capitals. PUBG Corp. will provide housing and travel support to the teams participating at the PUBG Europe League, and continue supporting the teams with revenue share of the league. More details about the support will be announced later on. Qualifying tournaments kick-off in October and run until the middle of December culminating in the LAN event with 32 teams.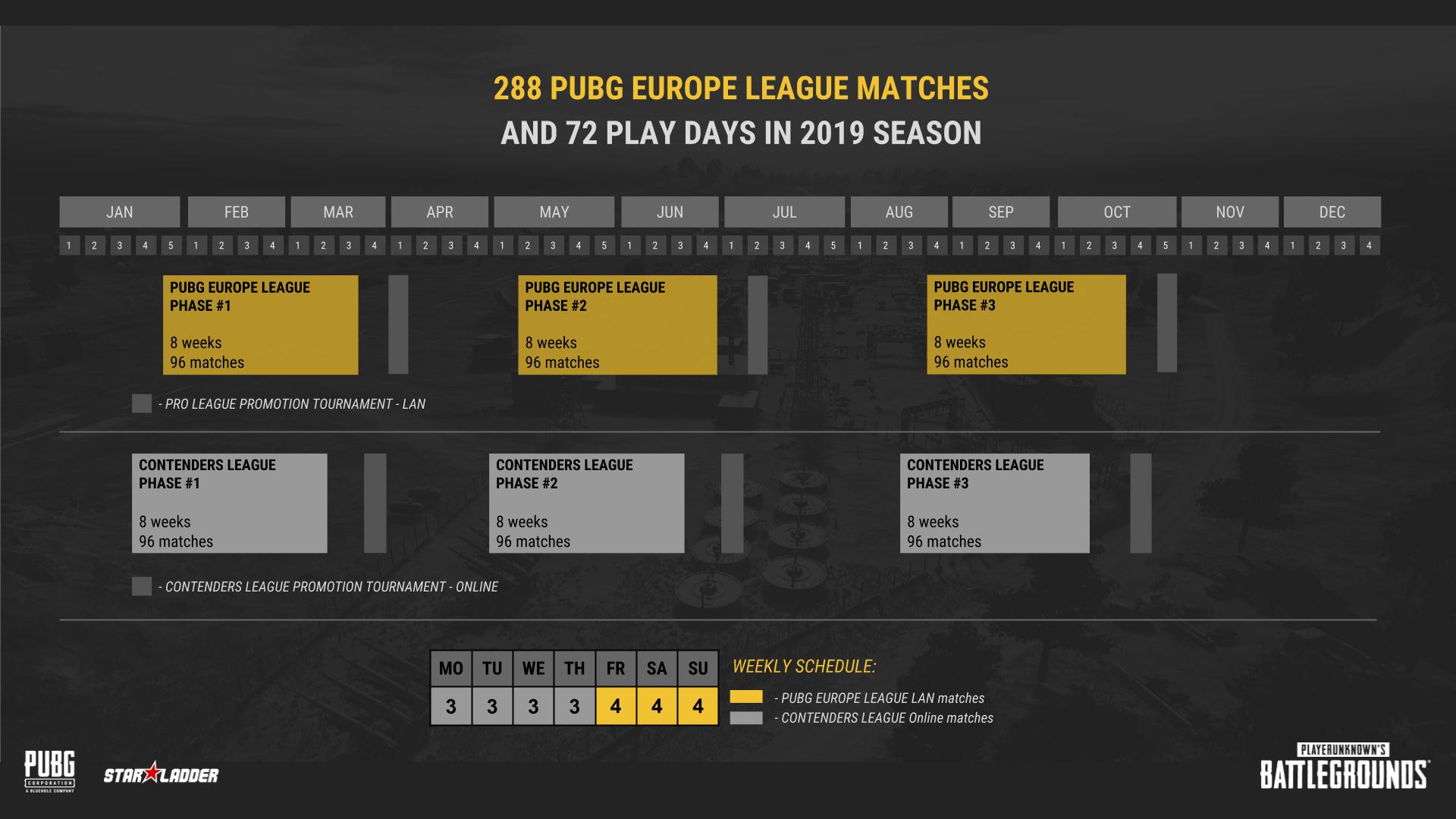 FAQ:
In what proportion will teams in these sub-regions be seeded into the closed qualifications?
Seeding will be made with the following proportions: Europe West - 7 teams, Europe East - 6 teams & Middle-East Africa - 4 teams. The proportions were made based on the relative size of players in these sub-regions
Please, could you tell additional information about the format of the closed qualifications?
17 teams from different sub-regions (in proportions, listed above) will qualify through the open qualification tournaments. Additionally, we will directly invite another 15 teams to the closed LAN qualifier, based on their previous tournament results, achievements and stats.
Next step:
We seed these 32 teams into 2 separate groups:
Group A (morning gametime ) - 4 game days (15 matches)
Group B (evening gametime ) - 4 game days (15 matches)
Eight best teams from each group will play next stage: 15 matches in 3 game days.
Preliminary dates: 10-16 December 2018.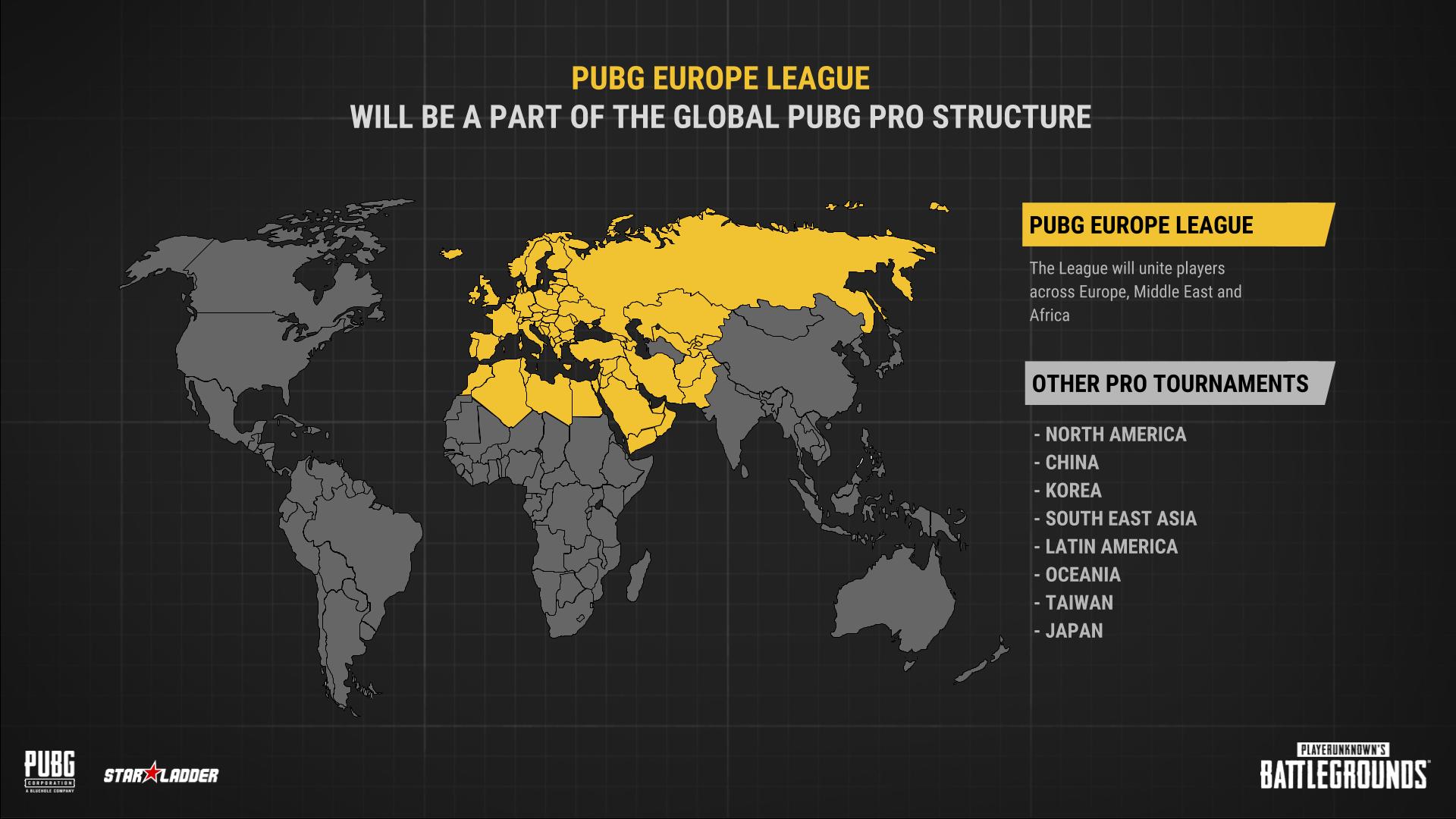 ---
Regions in PUBG Europe League

MEA (Middle East and Africa):
Turkey, Algeria, Bahrain, Egypt, Iran, Iraq, Israel, Jordan, Kuwait, Lebanon, Libya, Mauritania, Morocco, Oman, Palestine, Qatar, Saudi Arabia, Syria, Tunisia, United Arab Emirates, Yemen
Afghanistan, Angola, Benin, Botswana, Burkina Faso, Cameroon, Cape Verde, Central African, Chad, Comoros, Democratic Republic of the Congo, Republic of the Congo, Dijibouti, Equatorial Guinea, Eritrea, Gabon, Gambia, Ghana, Guinea, Guinea-Bissau, Ivory Coast, Kenya, Lesotho, Liberia, Madagascar, Malawi, Mali, Mauritania, Mauritius, Mozambique, Namibia, Niger, Nigeria, Rwanda, Sao Tome and Principe, Senegal, Seychelles, Sierra Leone, Somalia, South Africa, South Sudan, Sudan, Swaziland, Tanzania, Togo, Uganda, Zambia, Zimbabwe
EUROPE WEST (EU/EEA+Balkans):
Albania, Andorra, Austria, Belgium, Bosnia and Herzegovina, Bulgaria, Croatia, Cyprus, Czechia, Denmark, Estonia, France, Germany, Greece, Hungary, Iceland, Republic of Ireland, Italy, Kosovo, Latvia, Liechtenstein, Lithuania, Luxembourg, Republic of Macedonia, Malta, Monaco Montenegro, Netherlands, Norway, Poland, Portugal, Romania, San Marino, Serbia
Slovakia, Slovenia, Spain, Sweden, Switzerland, United Kingdom, Finland
EUROPE EAST (CIS+others):
Armenia, Azerbaijan, Belarus, Georgia, Kazakhstan, Moldova, Russia, Ukraine, Tajikistan, Uzbekistan, Kyrgyzstan